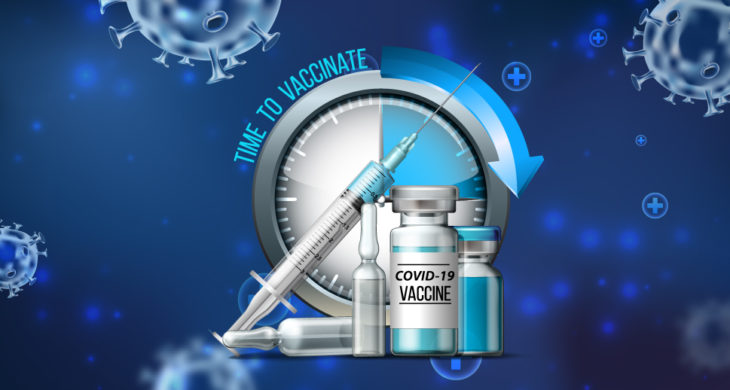 Date: 23rd November 2020
The emergence of positive COVID-19 vaccine data is rapidly progressing, with Pfizer/BioNTech and Moderna both releasing positive Phase 3 interim analyses in the last few weeks.  Today, Oxford University in collaboration with AstraZeneca announced their Phase 3 clinical trials interim analysis, showing that their COVID-19 vaccine, AZD1222 or ChAdOx1 nCoV-2019, is 70.4% effective overall when combining data from two dosing regimens, but can reach up to 90% at the higher efficacy regimen.
We first reported the start of the Oxford trial, which began at the end of April with the first participants in the UK to be vaccinated, it is part of an ongoing global programme which consists of a Phase 3 trial in the US enrolling 30,000 patients, a paediatric study, and Phase 3 trial in low-to-middle income countries including Brazil and South Africa.
This part of the trial has enrolled over 24,000 participants from diverse racial and geographical groups in the UK, Brazil and South Africa, and to date includes 131 COVID-19 cases. Previous data had shown that the vaccine provoked a T cell response within 14 days of vaccination, and an antibody response within 28 days.
An independent Data Safety Monitoring Board determined the study had met its primary endpoint – protection against COVID-19 14 days post vaccine regime completion.  They have also  concluded there were no serious safety events, and the inoculations was well tolerated.
Now, the preliminary data from this phase of the study indicate that the overall vaccine efficacy against SARS-CoV-2 is 70.4%.  However, the study included two different dose regimes, the first which gave two full doses appeared to be only 62% effective (given to 8,895 participants), whilst the second regime (included 2,741 participants) consisted of a priming half dose followed by a full booster dose given 28 days later, this showed a 90% efficacy.  Both regimes exceed the 50% efficacy rate that the US Food and Drug Administration (FDA) require to consider a vaccine for an Emergence Use of Authorisation (EUA).
There is also an early indication that vaccine could reduce virus transmission from an observed reduction in asymptomatic infections.
Emergency Use
Both Oxford University and AstraZeneca are now completing the interim and full analysis of the study, which will be reviewed by regulators worldwide – for independent scrutiny and product approval, and by scientific peer review and publication.  The team will be applying for emergency use shortly, and this will involve an accelerated pathway from the World Health Organisation, to make the vaccine available to low-income countries.
Storage advantages of vaccine
ChAdOx1 nCoV-19 or AZD1222 (as it is also known) is made from a replication-deficient chimpanzee viral vector – adenovirus – which contains the genetic code to the SARS-CoV-2 viral spike protein.
Adenovirus vaccines have been thoroughly researched and extensively used for many years, and are generally considered to be safe for use in humans. One huge advantage of this type of vaccine is that it is stable at fridge temperature (2-8oC).  Whilst, this means that transportation will have to done in a refrigerated van or cool box, this method of transport and subsequent storage in a domestic fridge is already how most vaccine are distributed, meaning it can be easily administered in existing healthcare systems using current infrastructures.
In contrast, the Pfizer vaccine must be kept much colder, at -70 oC.  Pfizer have just announced a pilot delivery program in the US, and are working on bespoke dry ice packaging.  However, it has been reported that the transport trucks would have to be fitted with thermo sensors and GPS trackers, and vaccines would be kept in vaccination centres,  it also requires dilution before administration, therefore represents a much tricker and expensive route to administration. It has been reported that the UK could get approval for the vaccine by the end of this week, whilst it is set to be reviewed on the 10th December in the US.  The first people could be inoculated in the UK as early as next week.
Moderna's vaccine is stable at -20 oC for around 6 months however, it can be kept in a fridge for up to 30 days, and at room temperature for around 12 hours.  Whilst, Moderna have said that it can be distributed using widely available vaccine delivery and storage infrastructure – with no dilution required prior to vaccination, it is still likely to pose some logistical problems especially in low-income regions due to the freezer requirement.
Vaccination roll out
These last few weeks have marked an important milestone in our fight against COVID-19.  We now have several vaccines poised and ready for roll out- potentially in a matter of days.  With similar efficacy rates, but very difference storage and shipping requirements, they are also vastly varying in cost  – from just ~$3 for AZD1222 to $20-37 for the Pfizer and Moderna vaccinations, respectively.  These factors will likely play a role into how successful these vaccination programmes will be, and which countries can afford them.
We are now just entering a new phase in this accelerated COVID-19 vaccine development process –   these vaccines are now passing out of the hand of the scientists who developed them and into the hands of the global biotech and pharma companies and the medical staff who will administer them.  We are very much hoping that the enormous challenge of global immunisation can be implemented quickly and carefully, and that they will be readily accessible to all.
For more information please see the press release from Oxford University or AstraZeneca