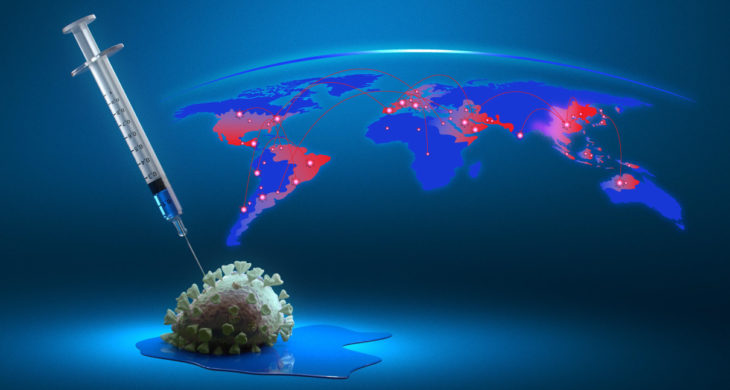 Date: 29th July 2020
The race to develop COVID-19 vaccines is heating up as two large late-stage clinical trials for mRNA vaccines were announced on Monday. Moderna announced that they have begun dosing participants in a Phase 3 study called COVE (Coronavirus Efficacy) with their mRNA vaccine, mRNA-1273. Whilst, Pfizer and BioNTech chose their lead mRNA vaccine candidate, BNT162b2, and will commence a Phase 2/3 global study.
Moderna's vaccine
Moderna, Inc., a clinical stage biotechnology company based in Cambridge, US, expect to enrol 30,000 participants in the US, in collaboration with the National Institute of Allergy and Infectious Diseases (NIAID), and the Biomedical Advanced Research and Development Authority (BARDA) in their Phase 3 COVE study.
mRNA-1273, encodes a prefusion stabilised form of the SARS-CoV-2 spike (S) protein encapsulated in a lipid nanoparticle and directs the body's cells to express the spike protein in order to elicit an immune response.
The primary endpoint will be the prevention of symptomatic COVID-19 disease with secondary endpoints including the prevention of severe COVID-19 disease and prevention of infection by SARS-CoV-2 regardless of symptomology.
Pfizer and BioNTech's vaccine
Pfizer, Inc., a multinational pharmaceutical corporation based in New York, US, and BioNTech SE a next generation immunotherapy company based in Mainz, Germany, announced the start of a global Phase 2/3 safety and efficacy clinical study to evaluate their BNT162b2 vaccine candidate.
Pfizer and BioNTech also expect to enrol up to 30,000 participants starting in the US and will then include around 120 sites globally.
BNT162b2, is a lipid nanoparticle-formulated nucleoside-modified messenger RNA (modRNA) vaccine, which encodes an optimised SARS-CoV-2 full length spike glycoprotein (S), which is the target of virus neutralising antibodies.
Other vaccine candidates
Whilst the announcements yesterday are crucial milestones in the journey to obtaining safe and efficient COVID-19 vaccines these two vaccines are not the only ones in advanced stages of development.
The AZD1222 or ChAdOx1 nCoV-19 vaccine from the University of Oxford and AstraZeneca is also a front runner in the race.  They have published positive results from their Phase 1/2 trials earlier this month in The Lancet journal, indicating no early safety concerns and showing the vaccine induced strong cellular and humoral immune responses. AZD1222 is currently being evaluated in an ongoing Phase 3 programme to determine whether the vaccine can effectively protect against SARS-CoV-2 infection. The global programme consists of a Phase 3 trial in the US enrolling 30,000 patients, a paediatric study, and Phase 3 trials in low-to-middle income countries including Brazil and South Africa.
The Ad5-nCoV vaccine developed by the Beijing Institute of Biotechnology and CanSino Biologics has also been reported to have positive immunogenicity and safety effects, again published in The Lancet journal this month.  However, the vaccine only induced seroconversion of neutralising antibodies in 59% and 47% of participants, depending on the dose.  As the study was perform in Wuhan, China, it thought that perhaps pre-existing anti-Ad5 immunity could have hampered the immune response to the vaccination, in particular for the humoral immune response.  There has yet to be an announcement of a Phase 3 trial however, the authors suggest that the results support the testing of the Ad5-nCoV vaccine in a Phase 3 effectiveness trial in healthy adults.
Sinovac, a biopharmaceutical company based in Bejjing, China,  announced at the beginning of this month that their vaccine dubbed CoronaVac, will enter Phase 3 clinical trials in Brazil in collaboration with the São Paulo-based Instituto Butantan. It will test efficacy and safety of the inactivated COVID-19 vaccine and will recruit nearly 9,000 healthcare professionals.
Finally, Sinopharm a state-run pharmaceutical company in China, has two vaccines entering Phase 3 trials involving around 15,000 participants in the United Arab Emirates.  One vaccine with the Wuhan Institute of Biological Products and the other with the Beijing Institute of Biological Products.
Conclusions
There is much hope resting on these trials, and with 25 candidate vaccines in clinical evaluation and a further 139 in preclinical evaluation it is hoped there will be several effective vaccines to chose from.  However, the ones we have discussed here at least currently seem to offer the most hope and are in the most advanced stages of development with all but one entering late-stage trials.
Phase 3 trials test a vaccine's safety and efficacy on a larger number of people across multiple locations and is usually a vaccine's last test before it can be used by the public.  So when will these vaccine be ready?  Whilst vaccines usually take years or decades to developed it is hoped that due to the urgency in this current  pandemic that the time to market will be much quicker.  Indeed, several of these companies, assuming clinical success, are hoping to seek for regulatory review as early as October 2020 however, this is an ambitious timeline and will depend on the the dynamics of the pandemic such as the rate of infection in test locations.
Whichever vaccine or hopefully vaccines finally reach the finish line the next big challenge to face will be the global supply. Building strong supply chains and increasing manufacturing capacities will be crucial to produce the vast quantities that will be required to treat the world's population and in fact is already being addressed.